Every year, Mozilla organize events around the world, where many communities gather with mission to learn something new about Mozilla's plans for better and safer Internet, some new tools for easier localization, testing, etc. So this year, Mozilla Slovenia community organized l10n hackathon in Ljubljana, for eight other communities. This hackathon was specific, because each community that was invited, had to set goals for themselves, so my community choose to focus on Firefox Android SUMO articles. I can proudly say, that we manage to finish this task and translate Top 50 SUMO articles for Firefox Android, and we will continue working on translation of the rest.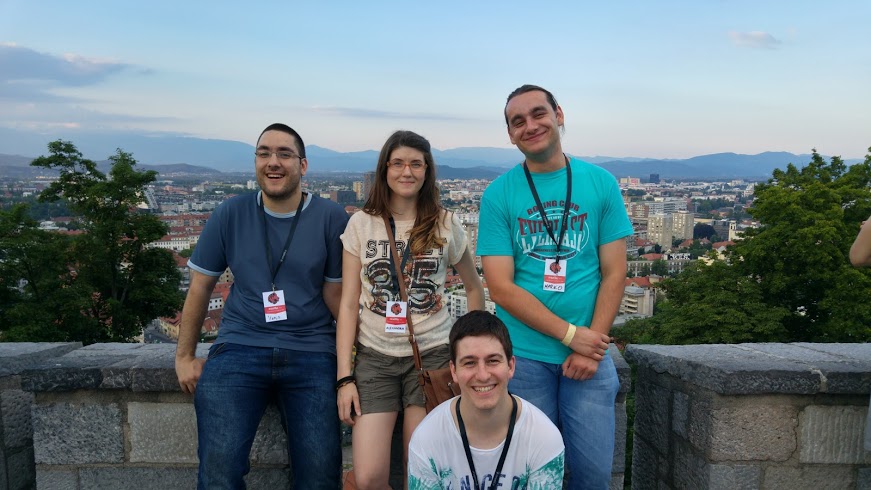 Mozilla Serbia l10n team
Sessions
L20n
L20n was presented by Staś Małolepszy, who gave us good introduction to the this new localization framework developed by Mozilla for the Web. He showed us some examples of using l20n in live preview and we discussed about using it in different locales, specifically Balkans, as we have really complex grammars. For example recognizing gender or specific terms in different language. There is a really easy solution for each of these problems and that's the beauty of the l20n.
As a localizator, I can say that l20n is something really new and good for every localizator, for most people it will make a lot easier to localize things, so follow the news about it and it's progress.
Pontoon
For those who don't know, Pontoon is an online platform for localization of Mozilla's projects. It is easy to use and it require only account registration to start with it. You can easily move from project to project, check how many translated, untranslated or missing strings some project have and many more things.
Matjaž Horvat, from Mozilla Slovenia community, gave us small introduction to Pontoon and he talked about new things they will add soon. He presented us some tools for tracking projects progress I didn't even knew exist, but are very powerful and easy to use. There are till more work to be done, but I'm sure you'll love it if you try it.
Spectrograms
Probably my favorite session. We all went outside and l10n drivers asked as couple of questions. If you agree with the question, or your answer is simply "Yes", you will move on one side (right for example). If you do not agree with the question, or your answer is "no", you would move to the other side (left). If you are not sure about it, if you agree and disagree at the same time, you would stay in the middle. Then l10n drivers would ask some of us why we sad yes, no, or why we are in the middle and this is actually a great way for them to see how volunteers feels about some things regarding the Mozilla. Maybe it doesn't sound special, but I definitely enjoyed it.
Special surprise
Mozilla Slovenia community had special surprise for us on Saturday night - kart racing. It is something that's never been done before on any Mozilla's event. We were divided in many groups and each group members raced against each others. I must admit, I'm not a fan of driving, but I did enjoyed in this.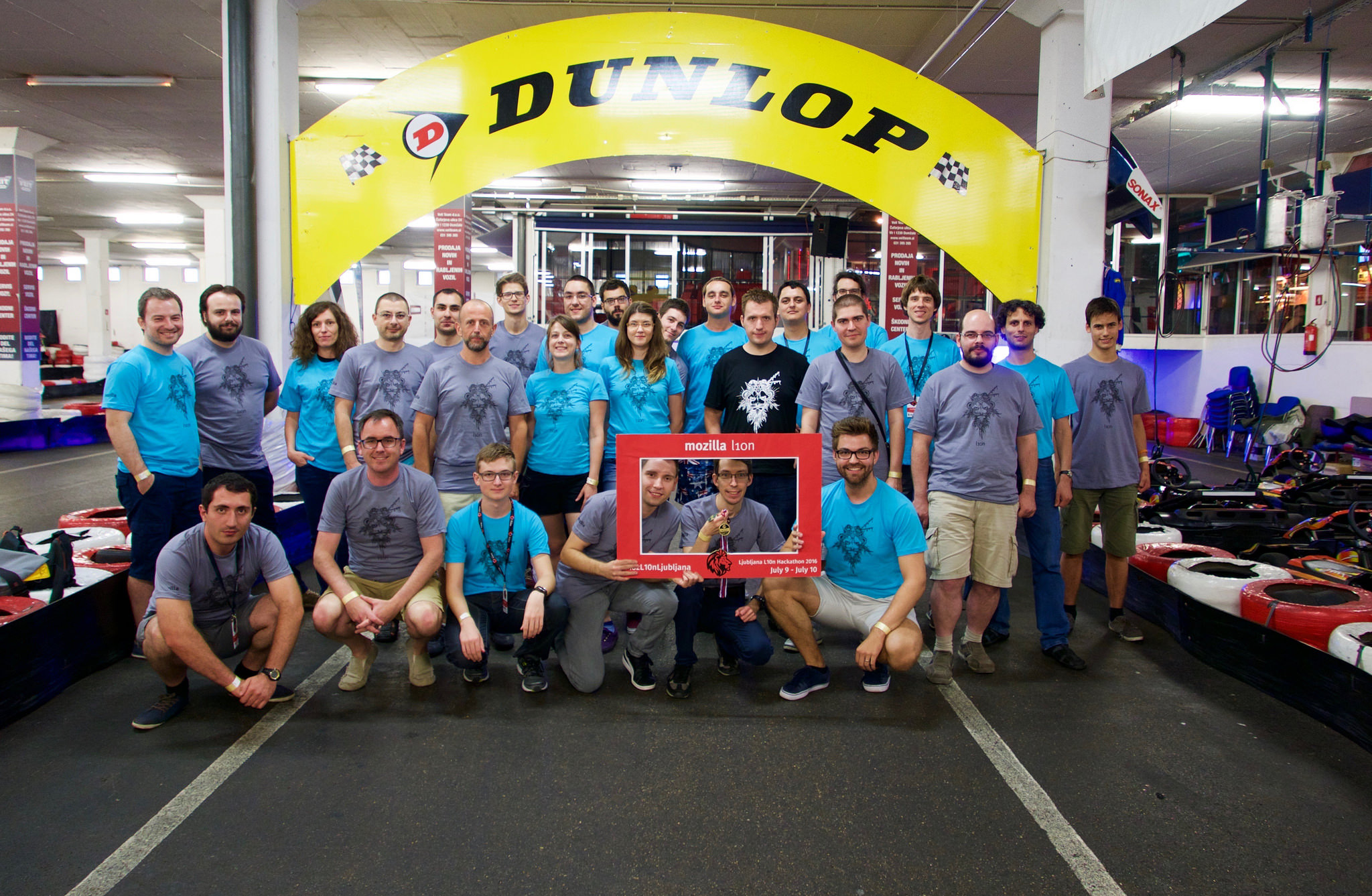 Group photo
Summary
I'm glad I had a chance to be a part of this amazing event and to visit Ljubljana, beautiful city full of nice people, historical monuments, bridges and nice food and beers. I truly hope I will visit again Ljubljana and I will see again people from hackathon.
I would also like to thank Gašper Deržanič, for excellent organization of this event. Form his experience I learned that it is not easy thing to organize something like this, but it is definitely worth it.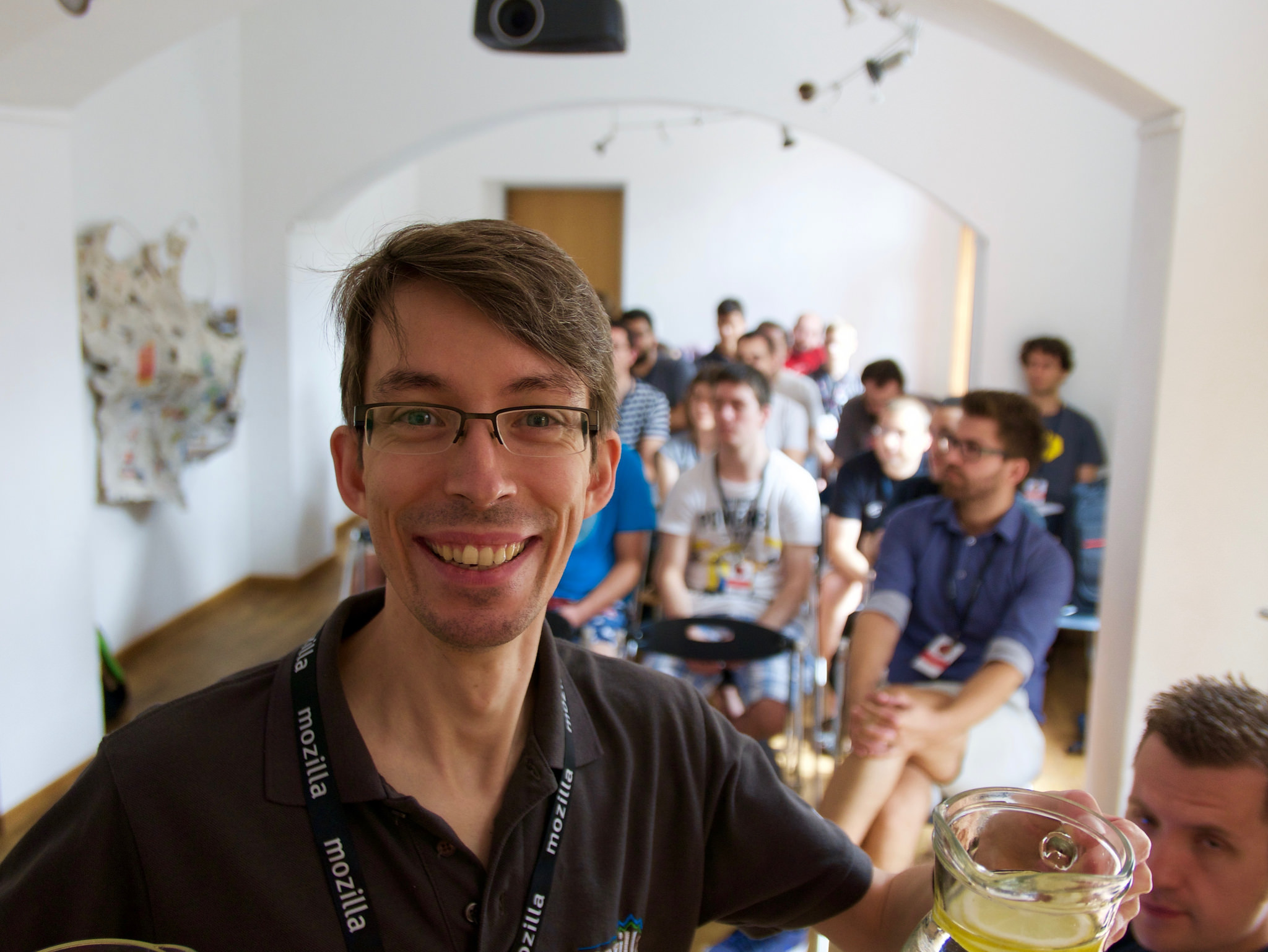 Gašper Deržanič